What is a Portable Veterinary Ultrasound Machine?
Portable Ultrasound Machine was originally developed for the military. However, as time progressed and technology advanced, Portable Ultrasound Machine developed this handheld ultrasound technique for animals.
With the advent of handheld portable veterinary machines, the time may not be far away when a doctor uses an ultrasound machine small enough to clip on his keyboard.
Plen Medical: Your Reliable Portable Veterinary Ultrasound Machine Manufacturer in China
If your veterinary hospital or animal farm need to import or import veterinary ultrasound machines, then Plen Medical will be your best choice to help you finish animal diagnostic ultrasound work!
Plen Medical is one of the leading veterinary ultrasound machine manufacturers, and all of our veterinary ultrasound machines meet the needs of different types of animals.
From Plen Medical, you can find and buy veterinary ultrasound machines for small animals, large animals, vets, livestock, and farm animals at a competitive price.
Choose Your Suitable Portable Veterinary Ultrasound Machine
What is a portable ultrasound machine used for?
The portable veterinary ultrasound system provides flexibility, mobility and can image the patient in real-time with the veterinarian.
The portable ultrasound machine enables the veterinarian to obtain high-quality images without relying on a single machine.
Thereby improving work efficiency and reducing working time.
How big is the portable veterinary ultrasound and is it easy to carry?
Yes, portable ultrasound machines of the dimension of P6-VET is 41.6 ×19.3 ×38.6cm which are easy to carry, easy to operate and convenient to use.
How should I prepare my pet for the ultrasound?
Pets undergoing ultrasound examinations should not eat within 12 hours before surgery;
Therefore, please do not feed your pets after 8pm of the night. Before the examination , free fresh water is necessary to be offered to your pet
Why use a portable veterinary ultrasound?
Accurately predict animal pregnancy
Reduce ineffective feed time
Prevent empty cup
No more stillbirths
Can I use portable ultrasound machine at home?
Of course, you can use it to perform pregnancy tests for pets and other veterinary in your home, such as pregnancy, gender confirmation, proper diagnosis; tumor, abscess, and swelling check for various animal hematomas; it is easy to operate.
Portable Veterinary Ultrasound:

The most comprehensive guidance
Being a veterinarian, it is hard to find the problems in your patients since they are mute and obviously can't just list them out.
You need a portable veterinary ultrasound to go where you need to, which might not be possible using traditional methods.
Portable veterinary ultrasound machines are laptop-sized. Handheld ultrasound machines are tablet-sized or smaller.
The best advantage of a portable veterinary ultrasound machine is that it allows veterinarians to perform imaging onsite rather than bring pets out to specialty clinics, so it is pretty convenient.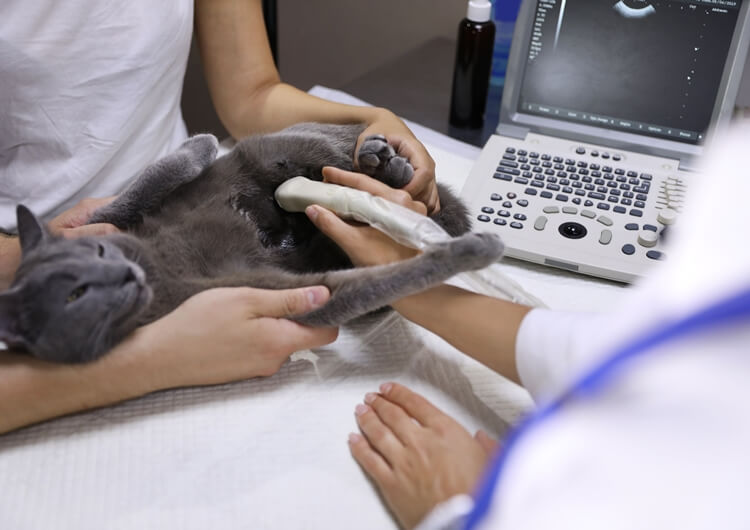 Portable Veterinary Ultrasound Machine and its uses
● If you're running on a tight budget or have limited space, portable veterinary ultrasound is the right choice for you. It facilitates more mobility and efficiency.
Doctors can use the images generated by a portable veterinary ultrasound machine to treat swelling, pain, and infection in the animal's body and many other conditions.
● Animal Disease testing
● Animal Pregnancy: Portable ultrasound machine is most commonly used for testing animal pregnancy.
● Identifying intestinal pathology in small animals is very easy using ultrasound- With high-resolution imaging, you can find dissimilarities with normal intestine images.
This can be used on small animals like dogs, cats, goats, rodents, swine, etc.
● X-rays might not always give you 100% results. There are times when your vet will need more information to make a medical decision. This is where ultrasound slides in.
For example, in case of cats vomiting or dogs having major abdominal pain, getting an ultrasound done to identify the problems is recommended.
● It's also used to determine the origin of abdominal masses and to look for a cause of elevations in kidney and liver enzymes.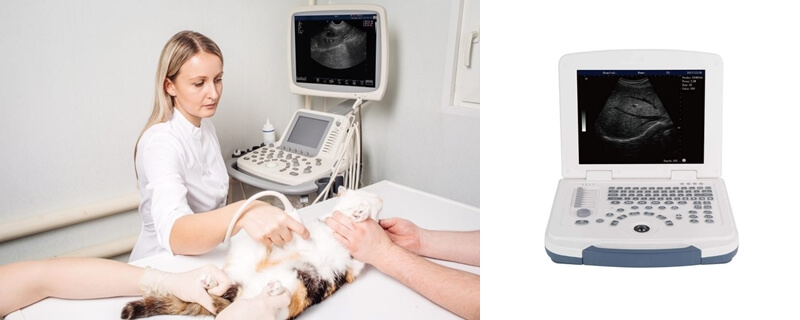 Portable Veterinary Ultrasound Machine Features
● It is portable and easy to handle so that it can be carried anywhere
● Portable ultrasounds are pain-free, non-invasive, and don't involve ionizing radiation.
● It's durable
● The portable ultrasound machine is easy to use and gives you reliable results
● It has a wide-angle display with anti-reflection coating, which gives you a clear view irrespective of ambient lighting conditions
● Uncomplicated interface for access to functions used frequently. Navigation through the trackpad is very efficient because of properly allocated buttons.
● Buttons come with snap dome technology for easy cleaning and tactile feedback
● The silicone keypad is sealed to avoid air and liquid exposure and disinfect with ease
● Ready to scan from a cold start in less than 25 seconds
● Voluntary Armored Cable Technology protects transducer cables from potential accidental damage
Components Of The Portable Veterinary Ultrasound
Portable Veterinary Ultrasound machines are the same as standard Ultrasound machines, only with a smaller console.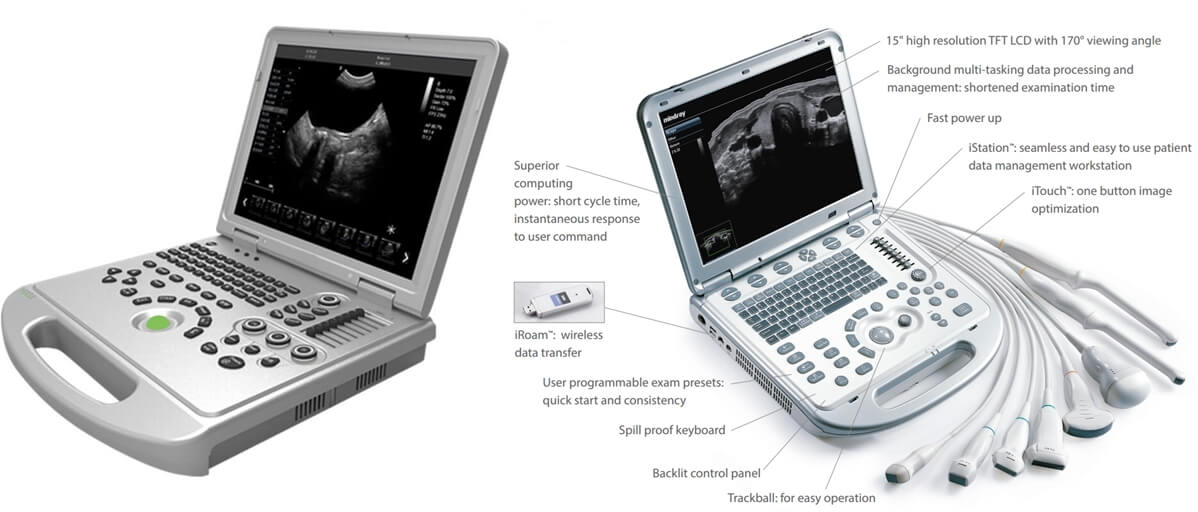 There are many cart-based or handheld portable ultrasound machines available in the market.
They have more or less the same components with a difference in image quality and price. So one must judge wisely according to their budget.
Most portable ultrasound machines have these common components:
1. A pulse that generates echo from the pulse
2. A transducer which transforms electrical energy to pulses which are then reflected by the tissues
3. A receiver that reads the signals coming back to the transducer
4. A display that is used to display the signal in various modes.
5. A display which is used to display the signal in the brightness B-mode, the motion M-mode and the amplitude A-mode
6. Memory to store different kinds of images
Furthermore, compound imaging, color flow Doppler to assess blood flow, image recording functions, and options for adjusting contrast are some features possessed by all the ultrasound machines.
What Animals Can Use Portable Animal Ultrasound Machines?
The doctor can use portable ultrasound veterinary machines for animals like goats, dogs, cats, swine, bovine, etc.
What Are The

Types of Portable Veterinary

Ultrasound

Machines?
Types of Portable Veterinary Ultrasound Machines
● Equine Portable Veterinary Ultrasound Machines: Equine veterinarians or horse veterinarians are animal vets qualified to diagnose and perform treatment & surgery on horses.
They can also approach them for consultations for diet planning, stabling, and grooming of horses.
A portable equine ultrasound system produces diagnostic images of a horse's organs. It is built for durability.
● Zoo and Marine Mammal Ultrasound Machines– The portable ultrasound machines used to treat zoo and marine animals have waterproof knobs and match the rigor of your veterinary work in such settings.
● Small Animal Portable Ultrasound Machines: Non-compliant patients, time constraints, and ultrasound imaging issues can cause hindrances in the treatment.
For this reason, portable ultrasound machines for small animals like dogs and cats are favorable for saving time and resources. These are efficient and easy to use.
How do you use a portable ultrasound machine?
Follow these steps to use a portable ultrasound machine:
● Shave down the belly so that the probe makes better contact with their skin
● Apply water-based ultrasound gel on the part where the probe will get penetrated so that the transducer can glide smoothly, eliminating any air pockets that impede the sound waves received by the body. You can also substitute it with alcohol.
● Turn the ultrasound scanner on.
● Apply the handheld transducer probe to the skin and move it around the area until you find what you are looking for. It will send ultrasound waves and receive echoes in return.
● These echoes are then used to create images.
Electric signals are generated first, after which the ultrasound machine uses data like the speed of sound and time taken for the echo to return to the transducer to develop an image of the area examined.
How Much Does A Portable Veterinary Ultrasound Machine Cost?
A good portable veterinary ultrasound machine can cost anywhere between US$ 500-$1500. The price depends on different brands.
Where To Buy A Portable Veterinary Ultrasound Machine?
You can buy a portable veterinary ultrasound machine online from websites like Amazon, IndiaMART, etc.
Several sellers such as GE, Hitachi, Fukuda, Mindray, Toshiba, Philips, Samsung, and Siemens are there in the market, which offers their models.
Also, you can buy portable veterinary ultrasound machine from Plen Medical directly.
Precautions
Imagery artifacts are often encountered while using portable veterinary ultrasound machines.
This can be harmful as it often leads to misdiagnosis of chronic diseases and hence hurts the patients.
Veterinarians need to know how to avoid these artifacts to avoid any misdiagnoses.
Examples of some artifacts and how to avoid them are:
● Acoustic Shadowing is a common artifact when scanning the intestines.
Residues on one side may obstruct the view of the other side. To avoid acoustic Shadowing, it's recommended to scan both sides of the animal.
● Reverberation artifact is when an ultrasound beam catches two parallel reflectors. This can be avoided by adjusting the angle of insonation so that the reverberation cannot occur.
● A refraction artifact is caused when the beam is bent from its original perpendicular direction as it passes through tissue walls with different sound speeds.
This can be resolved if the transducer is moved at an angle such that the incident beam is perpendicular to the interface.
Can Humans use a Vet Ultrasound Machine?
The B ultrasound gives the impression of checking the body when asked to any person.
Now, with the advancement of animal husbandry and the pet industry, veterinary ultrasound is beginning to surface a lot in people's eyes.
In this scenario, it is important to understand the differences between veterinary ultrasound and traditional human ultrasound.
1.The Angle of Veterinary B Ultrasound
There is a difference in the body structure of animals and that of human beings. Catering to this,
B ultrasound has also made alterations in the angle of irradiation so that people can reflect the condition of the animal body in a better way.
So that all the B ultrasound of human use can be utilized in animals. But vice versa is not possible because ultrasound of animal use is unsuitable for humans.
2. Right size
People normally use large B ultrasonic machines to move anywhere they want, but the veterinary ultrasound differs for large animals because they can't be moved easily.
So people need to carry the machine and bring it directly to the animal, so the volume of veterinary ultrasound has altered a lot.
3.Inexpensive
Human B ultrasound needs to be excellent and requires the most advanced technology to be accurate and effective.
However, for veterinary B ultrasound, high requirements are not needed, as long as the basic function of the B ultrasound can be performed.
So naturally, the price of a veterinary ultrasound is also very less.